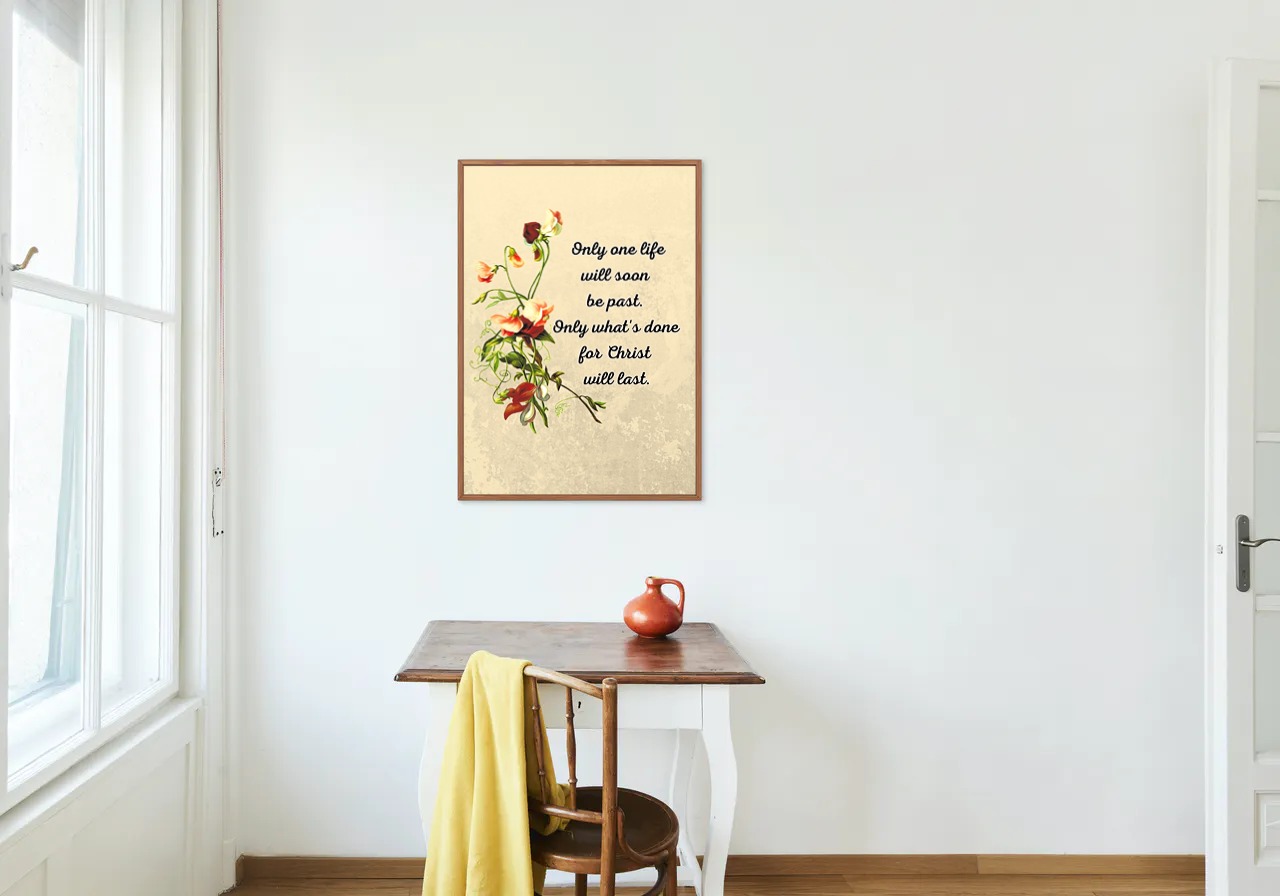 Printable Set of Only One Life
On Sale
Though you can buy individual files to try them out at 1.99 each (or try a free file, these change periodically), the best deal is to buy a yearly subscription at $36—that way you have access to all the files 24/7 and you can use them however or whenever you want. CLICK HERE to go to the subscription plan.
---
PLEASE NOTE: This is a DIGITAL DOWNLOAD. No printed image or frame will be sent. You can immediately print out the digital image in a variety of sizes and resolutions or have it printed as a poster or on canvas by a professional company. And you can make as many copies as you want for no extra charge.
---
ABOUT THIS IMAGE
My Grandmother gave me a little plaque with this saying when I was a little girl, "Only one life will soon be past, Only what's done for Christ will last." 
I've often had it where I could see it (it's in front of me on my desk as I write this) and I can honestly say my life had been greatly influenced by it. When times got hard or life challenging, I would whisper to myself, "this life will pass--what am I doing for Jesus?" It always made a difference.
When I decided to do printables, this is one of the first sayings I wanted to do and I pray that it will turn your life to Jesus and the reality of an eternal perspective. There is no better way to live this brief life.
For t-shirts and mugs with similar verses and sayings, go to:
https://www.bonfire.com/store/bibleverse-t-shirts/
THIS DIGITAL DOWNLOAD INCLUDES
Your purchase of this image includes a digital file containing a large selection of sizes and resolutions of printable files that can be used to create social media posts, web, online, and print communications, for printing out small desktop-size pictures plus large, framed prints for your home or office, and posters for your church.
There are no physical products shipped and the frames are not included. The downloadable files can be printed using your desktop printer, at local printing places like Costco and Staples, or sent to an online printing service like Vista Print, Printify, and many others. Images are also included so you can use the image in your personal or church social media. The Dollar Store and Michaels have frames in many sizes at reasonable costs you can use for the printed images.
After purchase, you will receive a downloadable ZIP file with all the resolutions and formats listed below. Again, this is a digital file, no products are shipped.
You can make an unlimited supply of reproductions of this image for personal encouragement, and as gifts for friends, church, or business. They can also be used for ministry purposes in your church and printed in digital, standard, and large-print formats. You can make as many copies as you want. The only limitation is that you cannot reprint them for commercial services or resell them.
After purchase, you will receive a downloadable ZIP file that contains additional ZIP files that you save to your computer, unzip, and use.
FILE SIZES INCLUDED
All the file sizes and resolutions below are included for each of the images. Below are THREE overall groupings and the files included in each one are listed below the grouping title.
Files for Digital & Social Media
1)  Instagram-sized images, 96 dpi jpg files.
2)  Facebook Post-sized images, 96 dpi jpg files.
3)  You can also use these files as digital images for online use in church newsletters or other social media by resizing them.
Files for Home & Church Printing
4) 5x7, 8x10, 8.5 x 11 inches high resolution PDFs
5) A4 high-resolution PDF
6) 300 dpi high resolution jpgs in each of the sizes in this section
Files for Professional Printing
The image files included can be used to order larger-sized prints. All the sizes are in both high resolution, PDF images, and 300 dpi jpg images as different printing companies prefer different file formats. The first size is the largest and the one included. It can then be scaled down for the smaller sizes.
7) 11x14 inches
8) 16x20 inches (can print 4x5 inches, 8x10 inches)
9) 18x24 inches (can print 6x8 inches, 9x12 inches, 12x16 inches)
10)  24x36 inches (can print 4x6 inches, 8x12 inches, 16x24 inches, 20x30 inches)
11)  A1 International paper size (can print A2, A3, A4, A5)
Some files also include a 30x30 image that can be scaled down to squares of any size. Some files don't have it as they are rectangular images only.
TERMS OF USE
By downloading the products you agree to the statements that follow:
Refunds are not given after the file has been downloaded.
You may print out the materials for use at home, church, or as a giveaway from a business, but you may not share or give away the original, digital files. 
 You cannot sell, share, or use the download commercially. You cannot create something from these files in print or physical format and sell it.
These files, the specific arrangement of words, and images are copyrighted by ©Yvon Prehn. Yvon Prehn does not claim originality in words or image creation, only in the arrangement of copyright-free material. Purchase does not transfer rights other than the reproduction rights above. 
PLEASE NOTE THE FOLLOWING LIMITATIONS
You must use a PC, tablet, or desktop computer to download the images, you cannot download them from a mobile device.
Because of the many different technologies and skill levels involved, I cannot help you with printing or using the images.
Colors may vary slightly due to monitor display, printing paper, printing device, and ink used.
Layouts may vary slightly from the representative images as I readjusted various sizes for the optimal spacing with each size.
I cannot give you any help with printing issues with your printer, outside companies, or software.
Please see
www.effectivechurchcom.com
for more training, resources, and FREE TEMPLATES for church communicators.
Go to
www.Bible805.com
for Bible-centered lessons, podcasts, and additional materials that will help you learn, trust, and apply the Bible.
For t-shirts and mugs with similar verses and sayings, go to:
https://www.bonfire.com/store/bibleverse-t-shirts/